Hello Friends! Today I am linking up with
Ashley
for Friday's Letters. Hope you enjoy!
Dear Gas Prices
, I am sick and tired of you getting higher and higher. Give a girl a break for once!
Dear Spider that lives in my garage
, that was not very nice that you bit me earlier this week. If you are still alive and I find you I will kill you!
Dear Cirque Du Soleil
, I loved your show last night! It was truly entertaining. I loved every moment of it.
Dear Family
, I am so excited that you are coming to my house for Easter. It will be a blast.
Dear Husband
, thanks for date night last night. I enjoyed going out to eat and going to the show with you. I look forward to spending the weekend with you. Love you babe!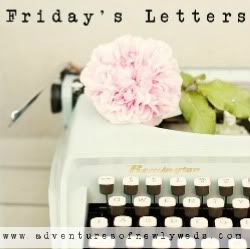 Debbie