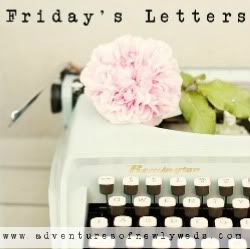 Today I am linking up with
Ashley
for Friday's Letters. Go check out her link up!
Dear Husband, I am so glad it is finally the weekend. That has been a tough week and I am so glad it is over. It will be nice to be able to rest and relax. Dear IRS, hurry up and send me my tax refund. I am waiting patiently for you to deposit the money in my bank. Dear Reagan and Darby, you have both been such sweet kitties this week. Perhaps you both deserve a cat treat when I get home today. Dear Husband, thank you for putting up with me this week. You are such a good man and I love you more and more each day.
Happy weekend everyone!