Dear Zoo
, I really enjoyed visiting you last weekend. Thank you for having so many wonderful animals to look at. I will be back to visit!
Dear Vacation
, only 24 more days until you come! I can hardly wait. You have been long over due.
Dear Husband
, I think it is awesome that your grandmother gave us some furniture from her house that she will not be using anymore. Thank you for going and picking it up and helping to rearrange everything.
Dear Car
, you are making some really strange noises some times. I do not like it one bit. Please do not break on me right now.
Dear Girlfriends
, I am so excited about girl's night tonight. I think it is going to be so much fun.
I hope everyone is having a great Friday. Today I am linking up with
Ashley
for Friday's Letters. Check it out!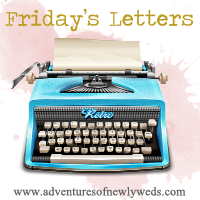 Debbie