Dear Husband
, I am so proud of you and proud to be your wife. I am glad that you continue to work toward your dreams and goals no matter what.
Dear Vacation
, 17 more days!! I can't wait.
Dear Self
, only two more weeks and you will have made it through your first semester of graduate school. You can make it!
Dear Husband
, I have missed you terribly while you have been at your kayaking classes this week. I will be glad when they are over.
Today I am linking up with
Ashley
. Go check it out.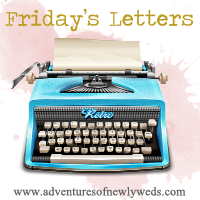 Debbie