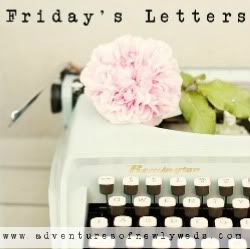 Hello friends today I am linking up with
Ashley
for Friday's Letters. So glad Friday is finally here!
Dear Husband, I am so excited about our little trip this weekend. I can't wait to wait to get out of town for the day! Yay, for weekend adventures! Dear Professor, thank you for giving me such a great grade on my assignment. I was really stressing over it. Dear Co-Workers, sometimes it gets annoying that you play Words With Friends all day long. Give it a break. Dear March, I am so glad to see you. Just a couple more weeks until spring! Dear Husband (you get to letter today), I love you so much and cannot imagine my life without you. I love you more and more each day!

Happy weekend everyone! Go check out Ashely's link up!
Debbie